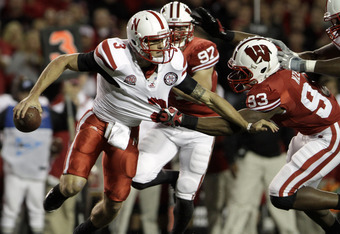 Right, so both my parents went to Nebraska and my wife and I graduated from Wisconsin and currently live in Madison. My dad, who is a Cornhusker nutjob, was beside himself when news broke that Nebraska would be joining the Big Ten as it would no doubt raise the level of interfamily school rivalries as both my brothers and their wives attended Purdue. And lo! even better was the news that Nebraska would open their inaugural Big Ten campaign one mile east of my house. What better time to plan a visit?
Even though my love of the Badgers falls far behind my irrational passion for the Green Bay Packers (grew up in Green Bay) and the US Men's National Team (grew up in the United States), UW football is not far behind. We were fed on a steady diet of Nebraska football superiority growing up, but I also knew that many experts had picked UW to win the Big Ten this year. I quietly suspected the Badgers would win but I didn't think they'd cover the ten-point spread.
We watched the first half in my basement, both of us on our best behavior, making emotionless comments like, "Someone blew that coverage," and "I'm surprised both teams are passing so much." The first quarter was a back-and-forth affair but through the second, the Badgers slowly found their groove. In some ways, it reminded me of an MMA bout where both guys are frighteningly ripped and both look up for the occasion. The two football teams traded blows in round one, but UW landed a couple big shots in the form of interceptions that led to touchdowns. Like an MMA fighter who gets rocked hard a couple times, Nebraska started to panic and the beat-down was on. After half-time, they looked more like the hunted than the hunter. Once the announcers started talking NASCAR and baseball in the third quarter, you knew the route well and truly on.
I'm not writing off Nebraska yet, but the big question remains: will they bounce back from this crushing defeat or will the pressure of being the new guy on the block get to them? On the other side, will Wisconsin be able to keep up the mojo and run the table against weaker opposition, or will complacency set in? Should be interesting to see the season unfold.
Oh, my folks had to head back to their hotel at halftime. Probably best for all parties involved.